What is 'Dances With Dogs'?
Despite the title of this fast growing sport it has nothing to do with dancing but plenty to do with music.
If you can walk with your dog you can enjoy heelwork to music. If you love music and enjoy time with your dog then this is the sport for you.
There are two sections, one is heelwork to music which, as its name suggests, is the dog heeling, but not just on the left side of the handler as is done in traditional obedience, but by the handlers right side in front of the handler behind the handler and going either backwards or forwards. As long as the dogs head stays reasonably close to the handler's leg it is regarded as heeling. Once you have taught your dog there is more than one way to heel you have to choose music and cut it to suit you're routine, because as you are heeling you will be interpretating the music.
The other section is freestyle, in this section dogs will learn a variety of moves including spins, weaving through the handler's legs, backing, bowing and many other moves. Again the music needs to be interpretated but there is no need for the dog to work in close proximity of the handler. There are four levels to enter Starter, Novice, Intermediate and Advanced. Routines can be from one minute to four minutes, and it is suggested that the starter routines stay at the lower end of the scale building up to near four minutes for advanced level. To gain a starter title the dog needs to qualify twice before moving on to Novice and then needs three qualifiers in novice before going on to intermediate and so on.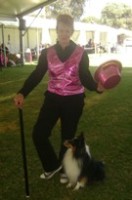 If all goes well once your dog has gained his advanced title then the next step or shuffle or skip is the title of CHAMPION this can be gained in both divisions.
The great thing about DWD is that at all levels you can speak to your dog and help him out with extra signals with no penalties. MDTC holds regular classes and to join the class it is important to have treats, toys and a sense of humour, because we all have a lot of fun.
Want to know more then check out www.danceswithdogsaustralia.com and go into the WA site to see some of our local dogs perform, find out about the history of DWD and take note of the dates of competitions.
For further information on Dances with Dogs and the DWD Club Of WA, please contact Jill or Amanda Houston on 9296 4996 or brynbank@iinet.net.au.